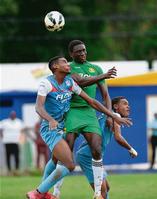 Shayne Fairman, STAR Writer
Having scored what could well turn out to be a contender for goal of the season in the ISSA-FLOW Manning Cup, St George's College's captain, Shevon Stewart, declared, "I want this Manning Cup," following their 3-0 win over St Jago High in Group J action yesterday at the Constant Spring field.
His team is now in pole position to qualify for the semi-finals, with an acid Kingston College test in their way. Should St George's draw, they would advance, but should KC win, then the compact and red-hot group could be decided on goal difference.
Stewart, in the 39th minute of play, scored a thing of beauty and brilliance to break the deadlock. He piled one defender, dribbled around one, and then two, then caressed the ball past an advancing Webston Pennant in goal.
Yellow card
The build-up started way along the right side of play from a long ball from Ronaldo Watson.
St Jago then went a man down when Maleke Miller received his second yellow card of the match, and subsequent marching orders, for a late challenge on Alex Marshall.
Marshall later made an exquisite strike, which he scooped over the advancing goalkeeper in the 79th minute to make the score 2-0.
Youngster Ronaldo Watson scored his first goal of the season in the 82nd minute to round out the 3-0 scoreline, and his school's second victory over St Jago so far this season.
"I am glad I picked up the scoring at this time, the time when it is needed most. I haven't won the Manning Cup yet and I am aiming to win this one in my final season," Stewart told The STAR. He has scored 14 times this season.
His head coach, Neville 'Bertis' Bell, said: "They came hard today, but we came to play. We now expect a tough game against Kingston College, we haven't won a title yet so we know there is still a whole lot of work to be done and we will do our best to reach the final."
Meanwhile, KC drubbed Haile Selassie High 5-1 in the day's 1 p.m. game.
Dashawn Donaldson (fourth), Rashawn McKinson (29th, 62nd) and Nathan Jones (45th, 48th) scored for KC, while Hamish Smith scored Haile Selassie's consolation.
"This zone could probably be decided on goal difference, so we should have ensured that we capitalised on our numerous opportunities created," said KC's head coach, Ludlow Bernard, adding that they are looking forward to a fiery North Street duel against St George's.
Yesterday's Results
Kingston College 5 Haile Selassie High 1
St George's College 3 St Jago 0
Today's games
Group I
1 p.m. Denham Town vs Innswood
3 p.m. Camperdown vs Hydel
Both matches will be played at
Constant Spring field.