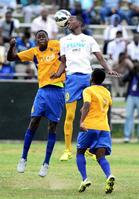 Nicholas Nelson of Hydel High heads the ball over Denham Town High's Jevawn Gayle (left) and Howard Williams during their ISSA-FLOW Manning Cup football match at Spanish Town Prison Oval. Hydel won 3-0.
Shayne Fairman, STAR Writer
With imperiously high standards set by returning veteran coach, Geoffrey Maxwell, Hydel High's leading marksman, Nicholas Nelson, is hoping to lift his game to help lead the Ferry school's charge to their first Inter-Secondary Schools Sports Association ISSA/FLOW Manning Cup trophy this season.
Hydel, though sailing through the preliminary round unbeaten, were eliminated from the Walker Cup by Wolmer's Boys' School, as well as the FLOW Super Cup, by Clarendon College leaving the ISSA/FLOW Manning Cup as the only trophy to cop this season.
"Well, I feel good that I scored 11 goals because, from the season start, I don't play anything. Coach (Maxwell) told me from early that I have to work hard so I am putting in the hard work in training and doing extra training. I put my mind to it that I want to get leading goalscorer for Manning Cup this season," said the former national Under-17 representative.
Nelson trails former national Under 17 teammate Alex Marshall of St George's College, who has 16 goals so far.