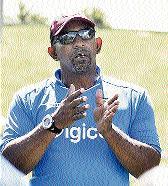 Simmons
ST JOHN'S (CMC):
The chief executive officer of the West Indies Cricket Board (WICB), Michael Muirhead, says Phil Simmons has not yet been reinstated as head coach of the West Indies team, although a resolution seems to be in sight.
Muirhead appears to be responding to reports in the regional media following a meeting between Simmons and the WICB Human Resource Committee, after his public outburst in which he questioned the make-up of the one-day international (ODI) squad.
However the Trinidad Guardian newspaper, which did not report that Simmons was reinstated, quoted "well-placed sources" within WICB as confirming that he will resume his post as head coach.
"There has been no formal reinstatement," Muirhead told ESPNcricinfo from Antigua.
"We agreed to certain conditions in principle about how to go forward."
Muirhead has confirmed receiving a written response from Simmons concerning terms set out by the WICB to the former Windies all-rounder before possible reinstatement.
"They did not respond to me for quite a number of days. I just received their response over the weekend," Muirhead said.
"It is about dotting the i's and crossing the t's. What we are doing is making sure that all protocols and everything are agreeable to both sides in terms of language and the steps that we will take going forward."
Simmons was suspended for saying there was "too much interference from outside" in the selection of the ODI squad.
The former Windies all-rounder was upset that all-rounders Dwayne Bravo and Kieron Pollard, whose services are in high demand in Twenty20 leagues around the world, failed to make the one-day international squad.