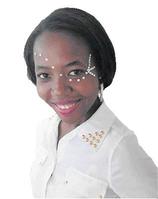 Shivaun Rufus
Curtis Campbell, STAR Writer
Gospel artiste Shivaun Rufus is promoting a new single, 'Judgement Day.' According to the artiste, the single has been receiving a strong reception, however, with more airplay the song would have had more commercial success.
"The feedback has been good from those who took the time to listen and give some airplay. However, there is room for improvement in terms of getting it out there to the masses. The summer was actually good. I performed at a few concerts, as well as there has been significant growth in my vocal ability and stage presence/performances," she told THE STAR.
Main goal
The artiste is working with producers like Builders Music and Linton Robinson of One God Band company. She says her main goal is to use gospel music as a tool to facilitate upliftment.
"I want the masses to see that I am a messenger that makes music to uplift the mind, body and spirit. It has always been substance over hype for me, and godly meditation. However, it is my dream and desire to make music that will be played, performed and listened beyond the church doors," she said.
Rufus also dabbles with deejaying and also practises genres like reggae and jazz. She, however, feels that gospel music could do with more support from the media.
"I have been getting radio play, but very limited. This is one of my biggest concerns at this point. I am still dropping songs off at radio stations and still doing my best to get them played. I am thanking those who have been playing my music so far and I am also urging radio stations and selectors to pump up Judgement Day and add it to their catalogue," she said.
She also noted that there has been an improvement as it relates to the accessibility of gospel events. However, she wants secular radio stations to start paying more attention to the gospel genre.
"Other radio stations outside of Love 101 and NCU FM need to start playing gospel music other than on a Sunday. The radio stations need to also give all artistes equal wavelengths to share their talents and messages to the world; less hype, fame, entourage and more good music," she said.