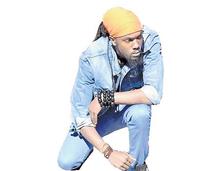 King Mas
Singer King Mas is ready to strike gold with his latest single Walk like a Champion, which samples Buju Banton 1990s hit recording of the same name.
Walk like a Champion is accompanied by several mixes. King Mas explained why he decided to update the Banton recording.
"I was born in Boston and, growing up in the 1990s, Buju Banton was one of the first voices I remember hearing out of Jamaica, as a small child being raised in the states. I've always enjoyed fusing the Hip-Hop/R&B/Soul culture I grew up around with the culture of the Caribbean community that I was raised in," he said.
There's a version which features singer Anto Neosoul.
"His tone of voice is very unique and many will assume that it's a female's voice, which is reminiscent of Jesse Powell and other male vocalists who sing in a higher vocal register than the average male," King Mas explained.
Born Glenford Prospere, King Mas, whose mother is from Clarendon and father is Supreme, the former Calypso monarch winner from Montserrat, made his recording debut over a decade ago but began to take the art seriously when he dropped his first mix tape, New Millennium Rasta, in 2010.
A dancehall version of Walk like a Champion was produced by DJ 3D, son of veteran sound system selector, Delano Thomas, of Renaissance Disco.
King Mas whose uncle, Everton 'Reality' Weekes, wrote the massive hit Hot, Hot, Hot, for Calypso singer Arrow in the 1980s, said he intends to use his voice as a tool for the voiceless to uplift and edify people from all walks of life, through sound and vibration.