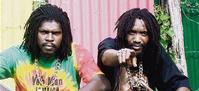 Suga Roy and Conrad Crystal
Busy Signal
Curtis Campbell, STAR Writer
Veteran reggae artiste Suga Roy has collaborated with Busy Signal, Zareb, Conrad Crystal and Fireball Crew for an effort called 'Shanty Town'.
According to the veteran, the project is well supported by local radio and seems destined to become a hit.
"If you tune in to the major radio stations in Jamaica, you've probably heard it getting a lot of rotation. Fans are skanking and rocking to the song, and these radio stations are making Jamaican music extra lively by playing the tune," Suga Roy said.
Shanty Town will be featured on Fireball Crew's upcoming album and is being promoted as the lead single. Shanty Town also sees the artistes remaking the classic 'Shanty Town' rhythm, originally produced by veteran producer Leslie Kong in 1966.
The new 2015 version was modified by Leroy Moore of Fireball Records and according to Suga Roy the original producers would satisfied with the final product.
"It would make the original producer of the rhythm and as well as the performers Desmond Dekker and The Aces, very proud. I also believe that this is a good choice for a comeback in this time when we are having a revival of the one drop roots reggae music. Leroy also worked with European producers on the Shanty Town track, and I think that unique blend and spice also helped to make the project perfect," he said.
The veteran gave The STAR an idea of what listeners of the project could expect from the featured acts.
"The mature mastery you expect from seasoned veteran Suga Roy is there, as well as the slick lyrical flow from Busy. A voice you may remember is Zareb, who is a talented member of Fireball Crew, Conrad Crystal is there with his melodious voice and harmony. Plus, once again, I have to say nuff respect to Busy Signal, who decided to play a part. He brings a lot of vibes and energy to the project," Suga Roy said.
The new 'Shanty Town' rhythm also features up-and-coming singer Dasia. she is the only female member in Fireball crew.