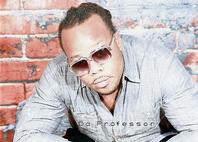 Da Professa
Dancehall-reggae artiste Da Professa iseems to be getting good feedback for his latest single, Anything Is Possible, that made two reggae charts last week.
The single is a message-oriented reggae song that urges the youth to seek success through hard work and dedication, even in the face of crippling poverty. The song was released by the Spiky Music Group two months ago, and has been added to regular rotation on Suncity Radio, Hitz and Irie FM stations.
"I love how the youths are responding to the message that anything is possible through hard work, belief and dedication," he said.
Chart jump
The single jumped to number six on the FIWI Choice Top Ten charts last week.
Anything Is Possible is being distributed and sold on over 250 platforms, including iTunes.
In the meantime, Da Professa has also been getting feedback with the pop-reggae fusion single, About Last Night, which features the talents of Beenie Man, Trinidadian artiste Red Lyte and platinum-selling producer-artiste DJ Marley Waters.
Other Da Professa singles include Hurt It on the 'Drugz' rhythm for Chase Mills Records and Reggae Christmas for the Spiky Music Group.