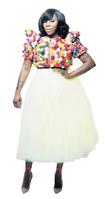 Sushana Cole
Rosheika Grant, STAR Writer
With her make-up products compared to commercial giants such as MAC, Revlon and L'Oreal, Sushana Cole is on a path to building an empire under her brand, All Dolled Up Cosmetics.
Cole's journey to entrepreneurship started in 2011, when her friend sent her a bag of make-up from New York, and she decided to go to banks and other businesses daily to women to sell the various products she had received.
Early into her simple start, Cole decided to take a make-up course after recognising that she could not answer the questions her customers had about the products she was selling.
A trip to the tattoo shop would be the catapult to Cole's sojourn into entrepreneurship. She noticed an empty store close by and immediately acquired the space to open her first physical location.
Customer service
But the make-up artist and entrepreneur had several challenges that resulted in her moving twice before being at her current location in Sassy's Salon on Park Plaza.
Great customer service and word of mouth helped to cement her spot in the make-up industry as a big payer.
"I decided to cater to customers who wanted a specific colour and colours that were different," said Cole.
Lippies by Shanna was launched in March 2014 with over 30 shades of lipstick. The brand has since expanded to include liquid matte lipsticks, primers, bronzer, foundation, pressed powder and brow, gel powders.
With an ever growing social media presence, Cole admits that a lot of customers are from persons who follow her on Instagram. She has over 19,000 followers.
In celebration of the anniversary of All Dolled Up Cosmetics, there will be a relocation of the store to Shop 19, Bargain Mall, Clock Tower Plaza, at the end of October.