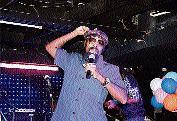 Contributed - Stuart Wilson
There is a growing reggae movement in Thailand. It is more than just the Thai beach hippies who wear dreadlocks, funky old-time clothing, smoke ganga and play Bob Marley in their wild-looking beach bars.
Reggae has now spread to the cities of a nation which boasts 66 million people.
Just ask rising reggae artiste Stuart Wilson, who recently returned to Jamaica after spending three months playing in several clubs in Thailand.
reggae scene
"There is a growing vibrant reggae scene in several areas of Thailand," Wilson said,
He toured Thailand from November 1 to January 29, where he played three 45- minute sets almost daily.
"During this time, I played 72 shows. The workload required me to be on stage six nights a week, playing at the Blues Factory, the Ankor and the Abyzz clubs, which are all part of Tony's Group ... . it turns out the people in Thailand really like reggae music," Wilson said.
He said that most of the shows were held inthe tourist mecca of Pattaya,which features the world-famous Walking Street.
"My picture and image eventually made it onto the backs of taxis all around Thailand and we were treated like kings during our time in the country. There were five of us that made the trip; my bass player, guitarist, keyboardist and drummer all joined me for the mission," he said.
breakout year
The year 2014 was a breakout year for Wilson. He made his debut playing on the Reggae Sumfest stage. He enjoyed excellent rotation on FM radio with Real Come Back Story and Rule the World. Other songs which appeared on his EP such as Leroy Can't Be Wrong, Represent and Put a Little Love, also did well in overseas markets.
He is on Instagram @stuartwilson and Twitter @stuartwilson100.