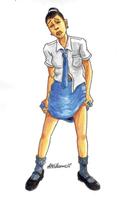 Dear Pastor,
I am a female student of a prominent high school. I am trying to keep my head high, so no one can carry my name to the principal or spread rumours, saying I am having sex with boys. Some of the girls at school are loose. Some throw themselves at boys. People outside the school know what is going on and pass ugly remarks about these girls. They condemn all the girls not all of us hide and have sex. I am not involved.
When I found out that a friend of mine had sex one evening with two of the male students, I spoke to her about it and she said she didn't want to do it but they convinced her, so I broke off the friendship. She is still having sex with the guys and taking money from them. Some of the guys take pictures of the girls when they are having sex with them, and show their friends these pictures.
Some teachers can't talk to the female students because some of them do not have good reputations. Students know what they are doing. Some of the boys don't respect the female teachers and the female teachers don't report them because the boys know secrets about them. Some things they say are true, but I do not believe them all.
I am concerned about our school and the bad reputation it has. I want everybody to know that not all the girls are bad.
Concerned student
Dear Concerned student,
You have mentioned the name of your school and many other things but I have deleted them. I do not doubt what you have said. However, I suggest the things you have written to me about should be reported to the principal and vice-principals of the school.
The students who are not conducting themselves well should be confronted and should urgently meet with the guidance counsellors of the school. Perhaps in special sessions with counsellors outside of the school. As a student, you should try your best to continue to maintain high moral standards, irrespective of what your colleagues may say about you.
You are in school to get an education. Don't condemn anybody. Do not keep company with those who are wild and immoral. You have heard it said, "You know a man by the company he keeps". That is true. Continue to walk circumspectly.
Pastor