Jermaine Lannaman, Star Reporter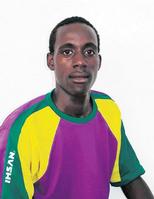 Harrison
Paul Harrison of Kingston Cricket Club says emerging as the leading wicket taker in the just-concluded two-day Jamaica Cricket Association Senior Cup was the realisation of a goal of his.
The left-arm spinner played a lead role in his team reaching the final, but despite finishing with 50 wickets in the tournament, he could not prevent the Jamaica Defence Force (JDF) from winning the title last weekend.
This is 10 more than JDF's left-arm wrist spinner Dennis Bulli with Manchester and Jamaica off-spinner, Jamie Merchant, finishing third with 31.
"I wouldn't say I was really surprised at my feat, as I had set myself a target of 50-odd wickets this season," Harrison said.
"To get it, therefore, is like a dream come true."
The lanky former Calabar High Grace Shield player, who noticeably bowled with bounce, variation and flight throughout the tournament, is attributing his success to hard work as the cornerstone.
He pointed out that he along with his coach, former Jamaica captain Terrence "TC" Corke, worked tirelessly at practice in improving his game, and this gave him a lot of confidence.
"I have been working very hard, and putting in a lot of effort in training," said Harrison, who ended with five five-wicket hauls.
"I must also thank my coach TC for the work he put out with me.
"He has been showing me how to bowl differently to batsmen, and how best to put them under pressure."
The 26-year-old, who says his ultimate goal is to develop into a West Indies player, also expressed hope that his showing will lead to a Jamaica trial invitation.
"I am hopeful that with my performance, I will get invited to the national trials," he said.
"From there, if it happens, I would work even harder, as I would like to take my cricket to another level.
"I am also looking forward to the national one-day competition, where I hope to finish as the leading wicket taker as well."