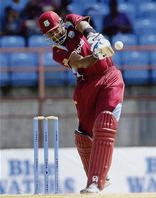 West Indies batsman Kieron Pollard hits a six during the first Dhaka Bank one-day international against Bangladesh at Grenada National Stadium, St. George's, Grenada, on Wednesday. - WICB Media
ST GEORGE'S, Grenada, CMC:
Kieron Pollard said he wants to become a more consistent match-winner for West Indies in the future. Pollard hit an entertaining 89 and was the architect of a three-wicket victory for the Windies over Bangladesh in the first One-day International on Wednesday here.
He shared a 145-run, sixth-wicket stand with fellow Trinidadian Denesh Ramdin and rescued an imploding West Indies, following a top-order batting collapse which left them reeling on 34 for five, chasing 218 for victory at the Grenada National Stadium.
"If I am honest with myself, it is about time that I take some responsibility," said Pollard. "I have been around for a long time and, hopefully, I can become more consistent playing innings like this."
"Leading the Barbados Tridents in the Caribbean Premier League over the last few weeks has been a learning curve for me again, and winning that tournament and shouldering a lot of responsibilities there."
"I want to be more consistent playing innings like this for West Indies and any other side of which I am a part."
Last Saturday, Pollard and Ramdin were foes during the contentious final of the CPL at Warner Park in St. Kitts, but their familiarity from playing for the Trinidad & Tobago national team in other competitions bred success during their partnership.
"We have been playing together for a long time and this was a great opportunity for us to come together and get a very good win for the side," he said.
"We were, however, a little disappointed that we did not stay and carry things right through until the end, but this is something that we will need to continue to work on, and try to consistently and strongly finish games."
Pollard said coming from the depths from which they did was a morale boost for West Indies, but it also proved there were areas that still needed improvement.
"At 34 for five, there was an enormous amount of pressure, but cricket is a funny game, and it was proven again in this match," he said.
"Ramdin and I were concerned that we were the last two recognised batsmen, and it would have been a bigger challenge for us to win, if either one of us got dismissed early. Jason Holder is a very good all-rounder and has proven himself in Test cricket so far, but we needed to stay."
"Prior to the game, we had discussed that our batters have to take responsibility, but it didn't happen and so Ramdin and I knew it was going to be crucial for the team, for us to stay there."
Although he struck five fours and six sixes in his 70-ball innings, Pollard said conditions were not the easiest for scoring, but he and Ramdin chose discretion as the best part of valour.
"We had to play each ball on its merit, play within our zones and limitations and still try to counter-attack," he said.
"It didn't make sense getting balls from which you could score and blocking them just because you were in a spot of bother. That helped to change the momentum, then the Bangladeshis pulled things back, and then came another period when we stuck our necks out again."
Pollard also dispelled the notion that the last six weeks of Twenty20 in the CPL had allowed a few bad habits to creep in, leading to West Indies' early stumbles when they chased.
The second ODI takes place today at the same venue before the series concludes with the last of the three matches next Monday at Warner Park.