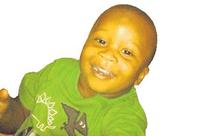 Mad man accused of bloody rampage last night

Tragedy struck in Roadside District, St Ann, last night, when a man, believed to be of unsound mind, severed the head of a three-year-old boy and slit the throat of a man.
The alleged attacker is said to be a relative of the two-year-old, who is affectionately called 'Jay'.
Up to late last, night the St Ann's Bay police were still probing the circumstances surrounding the gruesome incident and said they were unable to give any details.
But residents told THE WEEKEND STAR that the high drama occurred about 7 p.m. The residents say the alleged killer, who has a history of mental illness, armed himself with a machete, grabbed the two-year-old and pulled him into a garage operated by his father, Calvin Cooper.
Neighbouring district
They said the man used the machete to severe the child's head. He then approached another man, who he chopped in the neck.
Residents, including the child's mother and grandmother, who realised what had happened, began chasing the man, who fled to a neighbouring district called Lewis. While over there, he was held by men and tied up and the police summoned.
Upon arriving on the scene, police removed the child's body, rushed the injured man to the St Ann's Bay Hospital and took the alleged attacker into custody. He was also taken to the hospital under police guard.
Late last night, a huge crowd gathered outside the hospital, awaiting news of the injured man and the attacker.
Many sympathised with the child's mother, father and their family members, while others called for the alleged killer to be handed over to them, so they could take justice for the deceased two-year-old.