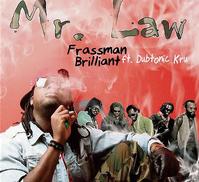 Frassman and Dubtonic Kru.
Dancehall artiste Frassman shows his versatility as a recording artiste as he is prepping for the release of a one drop album later this year.
As a precursor to the project, Frassman (real name Nicoy Salmon) has released the single, Mr Law, which features reggae band Dubtonic Kru.The song's lyrical content is quite appropriate and timely as it speaks about the current debate surrounding the legalisation of marijuana.
Frassman's collaboration with Dubtonic Kru, one of the fast-rising reggae bands which consistently tours Europe and the US, came about as a result of negotiations with his label, NS Music Enterprise LLC, and one of the members of Dubtonic Kru.
"The collaboration came about as a result of a link that my record company has with one of the members of Dubtonic Kru. At first, I did the song as a dub plate for Beenie Hustler from Energy Radio in Connecticut on the Rootsman riddim, and then we decided to reproduce it as a single. A member of Dubtonic Kru heard it and liked it, and that's how it came about," Frassman explained.
Even though he is known for his hard-edged dancehall offerings, Frassman says he is appreciative of the kind of live music and reggae treats the Dubtonic Kru is known for.
A video for the song is currently in the planning stages.
Prior to the release of his one drop reggae album, Frassman is getting ready to release a dancehall mixtape.He also has a number of new releases ready to hit the market. These include the soca-infused track, Push Back, Party Animal, Stamina and Gangster Prayer.The last two songs are featured on the Sex Meter Riddim which also has songs from Gage and Vybz Kartel, among others. This is produced by DJ Sky.