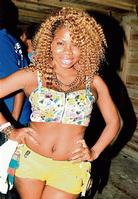 Dancehall's Champion Bubbler Baby Tash showed why she is widely regarded as one of the industry's top dancehall acts with a marquis performance at the Jamaican/Bahamian Independence celebration held at the Queen Elizabeth Sports Centre in Nassau, Bahamas.
Dressed in a high-waisted rider shorts and long-sleeve belly-skin top, with her funky curly blond hair, she was the essence of dancehall chic. She hit the stage at 10:30 p.m and launched into her Mix Up single and the crowd began to sing the words of the song.
She segued into her first breakout hit, Facebook, Nah Bleach and the ultra-seductive Bumpa, the latter getting a huge forward as she gyrated seductively while the crowd cheered on.
She did her bad-gal single, Badda Dan Dem, before inviting a few Bahamian girls onstage to do the 'Champion Bubbler' dance. She then did her recent dancehall radio hit, First Night, before closing her set with the seductive A Di Bubble and Nah Settle Down.
It was a stinging debut performance worthy of a diva and the crowd roared their approval with each song, screaming and waving continuously throughout her electrifying set. In fact,Tash's performance was so dynamic that another promoter booked her instantly to return to Nassau in October to perform at an annual Curry Festival in the capital.
"After the show, I couldn't leave as fans crowded backstage for autographs and pictures. I loved the crowd, they interacted with me.I am very happy that everybody is pleased with how entertaining I was," she said.
Baby Tash recently appeared on CVM TV's 'Onstage', where she premiered her new video for First Night.