Christopher Serju, Star writer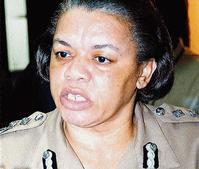 Jevene Bent
Commissioner of Corrections Jevene Bent has appealed for more public support for girls who have broken the law and served time, to help them redeem themselves and make the transition back into society.
"We are asking Jamaica to help us to embrace them. They have done their time," she noted, (and) "some of them are really sorry for what they have done, and we are asking you to give them a chance because that's the only time when we will have re-offending going down. Our objective is to encourage the inmates not to re-offend when they leave us, and to leave with a skill or something to hold on to, so that they can become worthwhile citizens of this country, providing their amount of input in our country," she told patrons at last Wednesday's mini-exposition of a wide range of items made by inmates, including furniture, art and craft, metal craft and home economic products which were on display at the Horizon Adult Remand Centre, 68 Spanish Town Road, Kingston.
She said the Correctional Services Department is pursuing new initiatives to build on the progress of its ongoing rehabilitation programme, and which has been making a positive difference in the lives of most of the inmates under its care.
Meanwhile, Minister of National Security Peter Bunting admitted that there has been some measure of success with the rehabilitation programme for juveniles, especially girls, but much more still needs to be done to improve the conditions under which children who break the law are housed, cared and nurtured.
He pointed to the ratio of wards to instructors/teachers at less than 10 to one, as an indication of the improvements, while admitting that the numbers by themselves do not tell the whole story.