Nodley Wright, Star Writer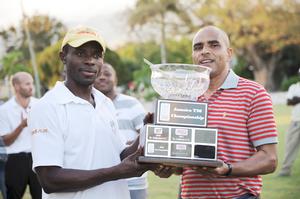 Jamaica Cricket Association vice-president, Milton Henry (right), presents the winners trophy to Manchester captain Gary Graham following the final of the Jamaica Cricket Association Twenty20 Championship at Up Park Camp yesterday. Manchester defeated St Catherine CC by 51 runs to claim their first hold on the title. - Ricardo Makyn
That both Boys' Town and Harbour View are gunning for the prize money of $250,000 awarded to the winner of the Red Stripe Premier League first end-of-round final, is obvious. What isn't so obvious is that this game could be the road to redemption for a number of players and one in particular - Romeo Parkes.
Besides a belated birthday present to himself, the Boys' Town striker, who turned 22 on November 11, yesterday, will be looking to work his way back into the Reggae Boyz squad with a strong performance at the Anthony Spaulding Sports Complex, in a showdown set to begin at 9 p.m.
highest level
Having narrowly missed qualifying for the Under-20 World Cup under the guidance of his cousin Donovan Duckie, and bowing out early from the Olympic qualifiers with Alfredo Montesso in charge, Parkes had only the 'big' team to look to if he wanted to represent his country at the highest level.
An outstanding 2011/2012 season saw him called to the Reggae Boyz band for friendlies against Cuba and New Zealand in February.
"I had my first and only cap against Cuba in the first game at the National Stadium but did not play in the second. I also went to New Zealand when the team won 3-2 but I did not play," explained the 6'2" Parkes.
Immediately after his return from the February 29 game in New Zealand, Parkes headed to Turkey for a trial with Turkish club Alanyaspor. His two-month stay did not land him a contract and by the time he returned, the team had moved on with the technical staff settling on their local core and there was no love in it for Romeo.
"It is for me now to regain my form, start scoring goals again and really showing what I have," said Parkes, whose departure saw a dip in Tivoli Gardens' form towards the end of last season as the goals dried up.
"Right now, I know it is tougher to get into the national squad with the work done by the players who have qualified for the next round, but if I do well in this game for Boys' Town, help them to a win and continue into the second round, then I should be able to force my way into the Digicel Cup squad for next month," added the player, who previously represented St Georges Sports Club and Highgate.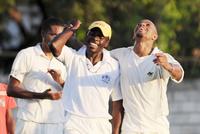 Manchester captain Gary Graham (centre) and teammates Zeniffe Fowler (right) and Donovan Sinclair celebrate after defeating St Catherine CC in the JCA T20 Championship at Up Park Camp yesterday. Manchester won by 51 runs. - Ricardo Makyn