SHELDON WILLIAMS, Staff Reporter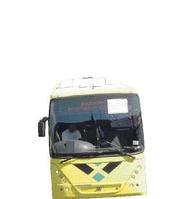 The female driver of the Jamaica Urban Transit Company (JUTC) bus who was gun butted during a robbery aboard the public passenger vehicle last week has been granted sick leave to recover.
THE STAR understands that she received a blow behind one of her ears with a handgun during the incident.
Interestingly, our news team has been informed that this is the second time that the female has been held up at gunpoint while performing driving duties in a year.
Corporate Communications Manager at the JUTC, Reginald Allen, said "This was not the first time she was being held up. She was held up before but at that time, the attacker had a board gun."
Allen re-emphasised that the prior incident also took place while she was driving a bus.
When quizzed if footage of the robbery had been captured on the surveillance cameras that are affixed in JUTC buses, Allen was unable to confirm this as the matter is being investigated by the police.
Allen also said that an undetermined sum of money was taken during the robbery.
He also reassured our news team that, "we are very much in touch with the police in all divisions, and we communicate excellently with them."
The female driver was pistol whipped and robbed when gunmen boarded the bus she was operating on Hagley Park Road last Monday night.
The Hunts Bay police are investigating the incident.