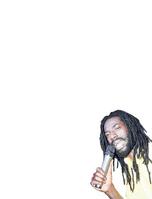 Buju Banton - File
TAMPA, Florida (AP):
Buju Banton's new attorney has asked a federal judge in Tampa to reconsider the 10-year prison sentence the Jamaican reggae singer is serving on two drug charges.
Banton, whose real name is Mark Myrie, is set to appear today in Tampa federal court for a resentencing on a gun possession charge. That charge carries an additional five-year prison sentence.
The motion filed last week includes a letter to United States District Judge James Moody from Banton's former attorney, David O. Markus.
Markus represented Banton in the singer's two trials in Tampa in 2010 and 2011. He says Banton is eligible for a reduced sentence of five years and a day because he's a first-time, non-violent offender with "the support of his entire country" and a history of charitable works.