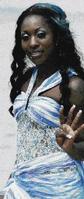 Spice - File
Dancehall diva Spice recently released the upbeat and daring track, 'Body Great' on the aptly named Good Up Tun Up Riddim'.
The single, which has two versions, one for the airwaves and another for the dancehall, has been steadily gaining momentum in both spheres.
Spice, known for hits Fight Ova Man; Ramping Shop, alongside Vybz Kartel; Jim Screechie; Fun, featuring international superstar Missy Elliot, Hot Patty Wine and others, said not only was working with Troy McLean and Dave Kelly for the track been a great experience, but "the fans have also been very receptive to the song."
"The females, especially, have been loving the new single. We love to find ways to say that we are the best, so this is a song that every female can sing and boast to. It also has a nice, little sexy vibe to it to dance to. The vibe in and outside of the dance has been great so far," said Spice.
In addition to Body Great, Spice's new single, Take Him Out, alongside international R&B singer, Mya, was released on Mya's album, K.I.S.S, and the video will be released in a few days.
"Working with Mya was a lot of fun. Ras Kassa shot the video for Take Him Out and it was done locally. It's very colourful with lots of dancing, because as everyone knows that's something Mya does exceptionally well and is known for. The video will also have a storyline that everyone can follow. So just look out for it in a few days," said Spice.