Leighton Levy, Star Writer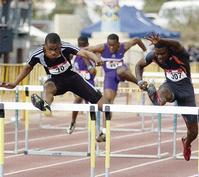 Warren Weir (left) defeating Keiron Stewart (right).
Training in the shadow of two of the fastest sprinters ever can be a bit daunting, but not to Warren Weir. With a personal best time over the 200 metres of 20.43 seconds, run twice this past season, Weir is nowhere close to being a threat to world champions Usain Bolt (19.19s) and Yohan Blake (19.26s) but he has been using the experience of training with them under the guidance of veteran coach Glen Mills as motivation to be all he can be.
"It's more like a benefit seeing that you learn to pace yourself in training," he said of what it's like to work with Bolt and Blake.
"Just being around them you get tips and pointers, as well as motivation."
In high school at Calabar High (CHS), Weir, Blake's contemporary, developed a solid résumé as a sprint hurdler winning gold in Class 2 and silver medals in Classes 3 and 1. He also won gold and silver medals as a member of CHS' sprint relay team, and silver and bronze as a member of the mile relay team. He joined the Racers club three years ago, still focusing on the hurdles, but it was just this past season that he made the switch to the longer sprint.
The decision, he said, came after he inexplicably began suffering pain in his knee whilst hurdling, pain that was hampering his progress; that, plus some insight from coach Mills, who believed him to be a better sprinter than he was a hurdler. Based on those two things, the decision was relatively easy. He comes off his first full season running the half-lap with useful information on how he can run even faster. Both 20.43 runs were accomplished into strong headwinds; -1.0 in Barcelona, Spain in July and -2.0 in London two weeks later. Weir felt he could have gone faster still this past season.
"If I had been stronger I would have run faster for trials (national championships) that were held at the end of June, and after," he said. He finished sixth in the 200-metre finals in 20.59 seconds.
The knee is 90 per cent better, he said, and his core is about 70 per cent and getting better, he said as he prepares for the long season coming. "So far, training is going good. I am working on the weak areas from last season; my core, strengthening my knee and perfecting my running form," he said. "It's a long season so I am taking it slow."
Weir, who just turned 21 in October, says his goals for the upcoming season are simple. "The first step is to stay healthy. Then I want to become a force to be reckoned with by getting some good times before trials for the Olympic Games in London," he said. His schedule is yet to be determined by his agent Cubie Seegobin. The ultimate goal, however, would be to make the Jamaican team to London next summer. "That would be a great achievement. There are two spots available and for me to make that team I would have to beat at least one world-class athlete to make it," he said. "It would be just awesome just to make the team."