Sadeke Brooks, Staff Reporter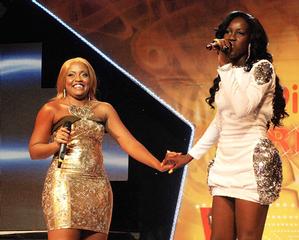 The top two hold each other during the final show on Sunday. - Colin Hamilton photos
After a season with hits and misses, Digicel Rising Stars came to a grand end on Sunday night at the Courtleigh Auditorium in New Kingston.
The two-hour long show started with some of this year's top-10 contestants singing Party Rock Anthem while a group did energetic and exciting dance moves on stage. This was followed by Jah Flames, who remembered the words to his song on this occasion. Anna, now a bald-headed blonde, also thrilled the audience with her dancehall medley.
Afterwards, the audience got a treat and went wild to a performance from Dominic Young and Protoje, who later did JA. Somewhat lacklustre, 2009 Digicel Rising Stars winner Shuga did an original song, before Ashe did an energetic set.
Then there was last year's winner Dalton Harris, who not only grew taller but was more mature as he did some manly and seductive dance moves. Also a youngster, this year's third-placed winner Delando Colley did Jackson 5's I Want You Back.
top two contestants

After a waiting for more than an hour, the audience finally got to see the top two contestants but that was in the from of a video clip showing their makeover by Dexter Pottinger.

Tash and Latty J were eventually revealed to the delight of the audience. Tash was the first to take the stage singing Only Girl In The World and Fireworks. The audience loved it.

Latty J came later with a softer song but she was clear and crisp as she sang If This Isn't Love. With more energy and dancers on stage, she did Diana King's Lies.

Reggae singer Tarrus Riley was later welcomed with loud cheers in his denim outfit. He thrilled those in attendance with melodic songs like Superman and Never Leave.

With the two finalists in different outfits on stage, there was a long drum roll before Tash was announced as season eight winner of the competition. Confetti filled the air and the screams seemed endless. The production team also had their hands full, as they tried to prevent persons from going on to and in front of the stage.

Latty J was presented with her second-placed cheque of $600,000. As she was about to be presented with her $1,000,000 cash prize, Tash shed tears of joy. This was followed by a victory song and a performance with Tarrus Riley.

wonderful feeling

Speaking with THE STAR at the end of the show, Tash said she is elated with the win but she was worried that she would not have been victorious.

"I feel great. Working this hard to be number one, it's a wonderful feeling, an excellent feeling. There are no words to express this," she said.

"I was fretting because I felt like I wouldn't win. The training was getting hard, rumours were spreading about me, people were saying bad things. I was very nervous."

Although, she didn't clench the big title, Latty J was still pleased.

"I feel good. I mean it was a win win situation because Tash is a great performer and I believe that it was fair," said the performer, who returned to the show as the producer's pick after being eliminated earlier.

But she says this is not the end of the road for her.

"I plan to work on my single. Hopefully, a producer comes along that wants to work with me so that I can put some music out there 'cause I actually want to do music," Latty J said.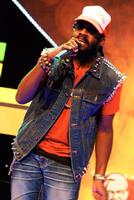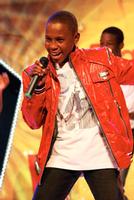 Left: Tarrus Riley performs just before the announcement of the winner of the Rising Stars 2011 competition. Right: The third-placed winner Delando Colley performing Jackson 5's I Want You Back.

Dominic Young and Protoje salute during their performance.