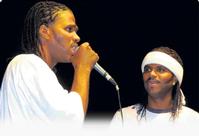 File - Twins of Twins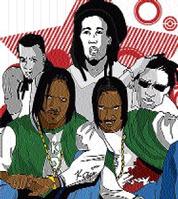 'Ching Pow Kickers' set for November release
Curtis Campbell, STAR Writer
The Twin of Twins are set to release their long-awaited movie Ching Pow Kickers in November, as legal matters are currently being sorted through.
The movie is the first lead role for the twins in this capacity; however, unlike traditional movies where the protagonist is visible on the screen, the twins are starring through voice participation.
action-packed
Ching Pow is an action-packed movie which sees the twins putting their writing skills to action, literally, to create laughter and comedic communication among the characters that appear to be Japanese.
As customary, the twins use the signature voices of Roundhead, Mutabaruka, Julian and Bob Marley among others, to create an effect that their fans have become accustomed to hearing on the dancehall mix tapes and CDs released by the twins.
Miguel Reid, a Twin of Twins supporter, who saw the premiere of the movie at the recently concluded Stir It Up Volume 9 launch, described the movie as being equivalent to watching Stir It Up on his television screen.
"Mi caan wait fi si di movie, because this kinda new. I don't believe this has ever been done before for an entire movie in Jamaica," he told THE STAR.
Ching Pow is a comedy, which utilizes a remixed kung fu film with audio provided by the artistes, therefore talks were being made about possible legal ramblings.
However, Bruce Hart, the director and producer of the film, says that he is optimistic that negotiations will go favourable and all issues settled in time for the November release.
The producer also said that a premiere was done in downtown Kingston, which got a great response from the audience.
"The people liked it, so it's getting positive reviews. We are now putting music to the final cut to add that dancehall element," he told THE STAR.
best quality
According to the producer, he is currently fine-tuning the product in order to get the best quality that can last for years, instead of it being passed off as a gimmick.
"We are currently in dialogue with the local theatres for its release, and it will be released to the public after we have offset our expenses," he said.
He is also hoping that Jamaica will support the local product which he credits as having a street vibe mixed with pop culture and comedy. "We hope that people will appreciate the realness," he said.
The producer operates a film company called Rocket Jamaica Limited, and says he is committed to making films for the local market at a cost that is inexpensive, but tells local stories with accuracy.