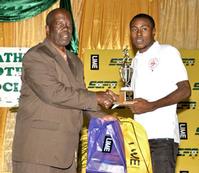 Royal Lakes FC's Kemoy Howell (right) accepts the award for most outstanding junior player in the LIME St Catherine Football Association Major League competition from Terence Gibson of the Portmore Football League. Howell was also named most valuable player for the competition. The presentation took place at the awards ceremony held at the Twickenham Park Police Academy in Spanish Town on Wednesday, May 26. - Contributed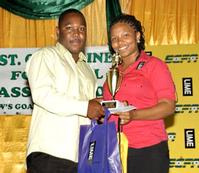 Public relations officer at LIME, Danielle Hopkins (right), presents the 'Winning Coach' award to Rayon Gordon, coach of Frazer's FC, winners of the LIME St Catherine Football Association Division One and Senior Knockout Championship. The presentation took place at the Twickenham Park Police Academy in Spanish Town on Wednesday, May 26.
The Twickenham Park Police Academy in Spanish Town came alive on Wednesday, May 26 as the top footballers in the LIME/St Catherine Football Association Major and Division One leagues gathered for the 73rd annual prize-giving ceremony hosted by St Catherine Football Association president, Peter Reid.
Out in their numbers were players and coaches of the Major League Champions- Royal Lakes FC and Frazer's FC, senior knockout and Division One champions. Also present were league presidents for: North St Catherine - Peter Thomas, Central St Catherine - Earl Hyde, Portmore - Leander Marshall, and Worrick Brown, chairman of the St. Catherine Referee Group who brought greetings on behalf of the Jamaica Football Referees Association and representatives from the major sponsor, LIME.
Royal Lakes FC, who won the Major League, walked away with the winners' cheque of $200,000, while second-place Spanish Town Police FC collected $150,000 for their efforts with third-place Black Lion FC and fourth-place Portsmouth FC receiving $100,000 and, $70,000 respectively.
The individual awardees for the Major League also received gifts from the sponsor LIME, in addition to a trophy and a cheque. Players from Royal Lakes FC won five of the eight awards that were on offer, with their outstanding youth player Kenroy Howell taking home two, most valuable player and most outstanding junior player.
Frazer's Whip FC came away with $100,000 for winning the Division One, with second-place Christian Pen FC getting $70,000 for their effort, with Treadways FC and Travellers FC receiving $50,000 and $30,000 for finishing third and fourth, respectively.
In the LIME senior knockout competition, second place was awarded to Rivoli United while double champions Frazer's FC collected the top prize and cheque of $150,000.
Fidel Anderson of Rivoli United was the leading goalscorer in the knockout competition.
Special awards were presented to Neco Brett, Kemar Foster, Kemar Beckford of Frazer's Whip and Jason Wallace of Spanish Town Police FC for their selection on the National Under-20 Team that participated in the World Cup qualifiers.
Romario West of McCook's Pen FC, who was tried out for the successful National Under- 17 team, and selected team members André Lewis, formerly of Waterford FC, and Cordel Benbow of Waterford FC, were also given special awards for their achievements.
In October last year, sponsors LIME signed an agreement with the St Catherine Football Association towards the development of the sport in the parish and to become the exclusive telecommunications sponsor of St Catherine football for the next three years.