Andre Lowe, Senior Staff Reporter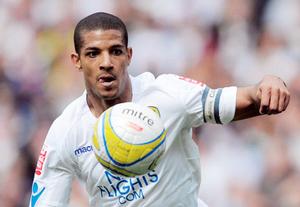 Jermaine Beckford
Everton striker Jermaine Beckford is one of several international players being eyed by the Jamaica Football Federation (JFF) in its efforts to widen the pool of players for the national senior programme.
West Ham prodigy Zavon Hines and Birmingham City product Luke Hubbard are also among the players being scouted and approached by JFF officials as the federation stretches its tentacles beyond the island's shores in a continued effort to secure more talent ahead of the FIFA World Cup qualifying campaign later this year.
Beckford, 27, has scored seven goals in his first season with Everton after making a big switch last summer from Leeds United, for which he had scored a famous FA Cup Third Round goal that knocked Manchester United out of the competition in the 2009-2010 season.
According to sources close to the discussions, Beckford is said to be seriously considering the idea but will not be able to make a commitment to the Jamaican programme until later this year due to family reasons.
Hines, 22, another attacking player who was actually born in Jamaica but has represented England at the Under-21 level, is expected to decide on his future one way or the other in a matter of days, while Hubbard, a midfielder who actually plays in the Birmingham City reserve team, has already filed his citizenship application and should figure for the Reggae Boyz soon.
Nathan Smith, a 24-year-old left back with English League One team Yeovil Town, has also committed fully to the programme and has filed his citizenship application with local authorities.
The situation is slightly different with German-born Daniel Gordon, who represents Rot-Weiž Oberhausen in Bundesliga 2. Twenty-six year-old Gordon, who has represented top-flight German clubs VfL Bochum II and Borussia Dortmund, is said to be extremely excited by the offer but is looking to sort out his club situation this summer before making a commitment as he is currently a free agent.
Another player who was reportedly contacted but cannot make a commitment at this point despite being interested is Reading FC's Jobi McNuff, who has a surgery scheduled for this summer.
JFF general secretary Horace Reid confirmed that discussions were under way with several players and underlined the importance of each player showing a level of commitment to the programme.
"A number of players have expressed an interest in representing Jamaica and we have also reached out to some. In most instances it's very preliminary and I'm not sure if I can confirm any names at this point but, yes, we are looking, we have been recruiting and the scouting process in ongoing," said Reid. "Except for Humphrey, nothing is concrete at this point."
"The players who do come here must show a level of commitment and professionalism; well, you expect a certain level of professionalism from the European players to begin with but more so, we will be looking for those who are truly committed to the country and that is why the recruiting process is so important," Reid added.
Noted UK-based player-agent Romel Wallen, who is close to a number of the players involved, gave an insight on the situation.
"Jermaine Beckford would like to be considered in the near future. Same for Jobi Mcnuff and Daniel Gordon. For various reasons, these players are unable to commit to playing this summer," said Wallen, who represents Pro-Goals Sports Management.