RAYMOND GRAHAM, Star Writer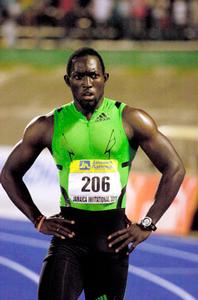 Nickel Ashmeade - file photos
Noted track and field coach Lance Brauman says he was not surprised by young sprinter Nickel Ashmeade dipping below the 20-second barrier, albeit not expecting such an impressive time that early in the season.
Local track and field fans are still awed by the performance of the former St Jago High school sprinter, who registered a major upset in the men's 200 metres at last weekend's JN Jamaica International Invitational meet, where he defeated a strong field.
Ashmeade clocked a world-leading time of 19.95 seconds to better the previous mark of 20.05 seconds done by the United States' Walter Dix in Doha.
"His win and a good time were not shocking to me as he is a great kid and he has been doing a great workout. He was prepared to run fast. At New York last year, I expected him to go under 10 seconds in the 100 metres but he got injured, thank God he has recovered well," Brauman told Star Sports.
The performance stunned thousands of fans inside the National Stadium with all eyes on the likes of the United States' Wallace Spearmon, local boys Steve Mullings, Nesta Carter and former world 100-metre champion Asafa Powell. Running out of lane eight, Ashmeade, who came off the bend in fourth, pulled away in the final 50 metres to stun his rivals with a victory.
"Running sub-20 seconds is not surprising. The only surprising thing about this is that he did it so much early than I anticipated," he said.
The 21-year-old Ashmeade, now taking orders from the United States' Brauman, at a training camp in Claremont, Florida, went professional after leaving high school two years ago.
It appears he is finally ready to extend his final junior year great form, where he claimed silver in the 200 metres at the World Youth Championships.
At last year's Adidas Grand Prix meet in New York, he was expected to do great things in the 100 metres, but suffered a hamstring injury, which cut his season short. At the JII Meet he was competing in his first 200 metres for the season.
The coach, who believes there is room for improvement, thinks working with other members in the camp has helped Ashmeade with his improvement.
"Nickel has been working with some great guys like Steve Mullings and Tyson Gay and they push each other in practice and that has worked well."
Brauman, whose athletes next stop will be in Puerto Rico this weekend, spoke highly of members in his training camp."
The JII Meet was a great one for the athletes in the camp and I am very excited and looking forward to the remainder of the season." concluded Brauman, who was the coach for the likes of Gay, Spearmon and Olympic 200 metres gold medallist Veronica Campbell-Brown at Barton County College and at the University of Arkansas where he was the assistant coach.