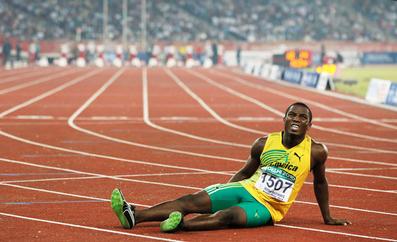 Jamaica's Oshane Bailey reacts after injuring himself in a men's 100m semi-final during the Commonwealth Games at the Jawaharlal Nehru Stadium, in New Delhi, India.
Delhi, India:
National 100m champion Oshane Bailey was one of the most impressive among Jamaica's new breed of sprinters on show here at the 2010 Commonwealth Games in Delhi, India, waltzing into the semi-finals with the second fastest time in qualifying.
Bailey, a former Calabar High School track star, pulled a hamstring muscle towards the end of the semi-final and had to withdraw from the final, a cruel blow to the 21-year-old who seemed set on winning his first major medal for the country, at his first major meet.
He wasn't alone as his former teammate at Calabar and close friend Ramone McKenzie also had to cut his progress in the event after picking up an injury just before his semi-final.
However, though disappointed, the pair have set their minds on getting over this setback and are both hoping that they will be able to reap something positive from this unfortunate experience in the not too distant future. "I feel really bad, I'm very disappointed that I wasn't able to run in that final but it's a part of life and I'm just going to have to move on from this and do my best to come back a stronger athlete," said Bailey.
"It was my hamstring; I had a slight strain and my coach decided that it was best that I didn't participate, so that I didn't hurt it anymore," Bailey added. "It's a big blow but I'll be alright."
conditioning his mind
When asked if he thought he would have been able to win a medal in the final that was won by his countryman Lerone Clarke in 10.12 seconds, Bailey, a Central America and Caribbean relay silver medallist, is certain that he would have been able to claim one of the medals. He is, however, looking beyond the disappointment of Delhi, and is already conditioning his mind to do the work necessary to make success in Daegu, South Korea, a reality.
"I'm really looking forward to the World Championships next year and I have no regrets coming here, I have learned a lot," Bailey remarked
McKenzie, like his good friend, has taken what he can from the experience and refuses to be too burdened by the negatives.
"Naturally I'm a bit disappointed but I'm ok with it because overall it was a very good learning experience for me so I just have to take what I have learnt from this experience into next year and I think I'll do better," McKenzie said.