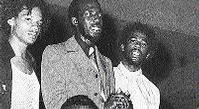 World Premier of 'The Harder they Come' at the Carib Theatre. Standing in centre is Carl Bradshaw one of the actors in the film.
Carl Bradshaw is recognised as a tremendously talented director and actor for his contribution to Jamaican cinema. He recently won the Doctor Bird Award for Acting (Jamaica's Academy Award).
He has also won the Carifesta Film Festival award of excellence, Best Boy Actor award, Caribbean Awards of excellence, Caribbean Hall of Fame among many others.
Jamaica's most renowned actor, and a folk hero in his country, Bradshaw's acting career began with the part of bad man Jose in the classic reggae film, The Harder They Come. In Third World Cop, he plays an infamous don, and imbues his character with a depth and intelligence that he has brought to all his roles. He also had parts in Smile Orange, Countryman, The Lunatic, Klash and in the television show Traxx.
Throughout his career, he has line-produced dozens of video and television programmes for both local and international consumption, including co-producing Dancehall Queen in which he also played a supporting role.
The movie gives a full spectrum of social commentary and represents a realistic portrayal of present day Jamaica. Its authenticity is derived from an all-Jamaican cast and on-location shooting in Kingston.
As Bradshaw comments "we have delivered a musically-driven story, a fusion of sight and sound, based on the daily experiences Jamaicans have to offer the world".
An intelligent, insightful performer, Bradshaw today is best known for his role in Third World Cop (Palm Pictures), the top selling film in Jamaica's cinematic history.
Bradshaw was a former Olympic quarter-mile runner for Jamaica. At the time he made The Harder They Come, Bradshaw was a teacher of Physical Education at Priory and Excelsior High School. Educated at Excelsior High he grew up in the nearby Standpipe ghetto.
Acting, however, was his early love, and it won him a scholarship to the University of Pennsylvania. He believes that to achieve a true Jamaican flavour, productions that come out of the country should reflect the roots of the nation. To this end he ensures that a large number of local non-professionals were cast in his productions providing the film with their rich texture.